[FC2 Blog] New File Upload tool is now available in multiple languages!
FC2 Blog New File Uploader is now available

in multiple languages!
Thank you for using
FC2
(
fc2.com
)!
FC2Blog
(
blog.fc2.com
) released new File Upload tool in English, Chinese, Taiwanese, Korean, German, French, Spanish, Portuguese!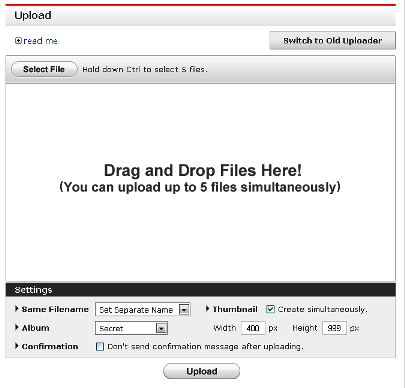 New features are;
1. Select multiple files with 'Ctrl'!
Now, the new tool enable you can select up to 5 files and upload them simultaneously.
2. Upload with Drag and Drop!
On browsers that compatible with HTML5, you can upload with ease. Just drag and drop.
3. Create a new Album simultaneously
You do not have to go to he 'Album Management' to create an Album. Now, you can create an album when uploading files.
4. Switch to Old Uploader
You can also use an older version File Uploader, too. Just click 'Switch to Old Uploader'
Try this new function on
FC2Blog
We thank you for using FC2.
FC2
(
fc2.com
) is committed to providing the best possible service for users we possibly can.